*sniff* I just had my last 4-H Leaders Show last Saturday. I'm a super senior this year so there is no stretching it out. There is just the summer dressage show, a couple club shows, and the fair to go before no more horse 4-H. For those who can't remember my intro post (it was an aweful long time ago) I am in Snohomish County of Washington State in the Top Hat Trotters club.
It was good seeing everyone again - I've been away to school in CA for the school year and so did not get to participate in many things 4-H.
Carnie (my Thoroughbred) did absolutely fabulous...for the first half of the day anyway.
-First of the day was Senior English Showmanship Medals Silver - We didn't get our medal but I did get 1st of 4.
-Then I went and did my Non green horse trail in-hand (because Carnie hates riding trail) - There were TINY trot turns obviously not meant for a TB, but we ended up with another 1st out of 13.
-Then came my hunter pleasure class. There were three lots - my lot had 19 so I wasn't expecting much - I ended up with another 1st (needless to say I was pretty happy)
-Then of course come the dreaded bareback equitation. Why do I do that to myself every show? Carnie is a dang hard horse to ride bareback (unlike my old QH) I hadn't actually ridden bareback in 6 months but oh well. We did get a 5th out of 10.
-Then came Huntset Equitation Medals Gold - Carnie was half dead at this point, but considering how good some of those horses were in this class I was happy to beat even a few of them. I got 6th out of 10
-Last of the day was Disciplined Rail for medal riders - It was a definate no go in this class - Carnie was dead to y leg so our half passes, leg yields, and pivots were sloppy, the judge was looking right at me when the counter canter was asked when I was on a corner - the only bright spot was Carnie did a kick ass collected trot. We didn't place out of 14 people.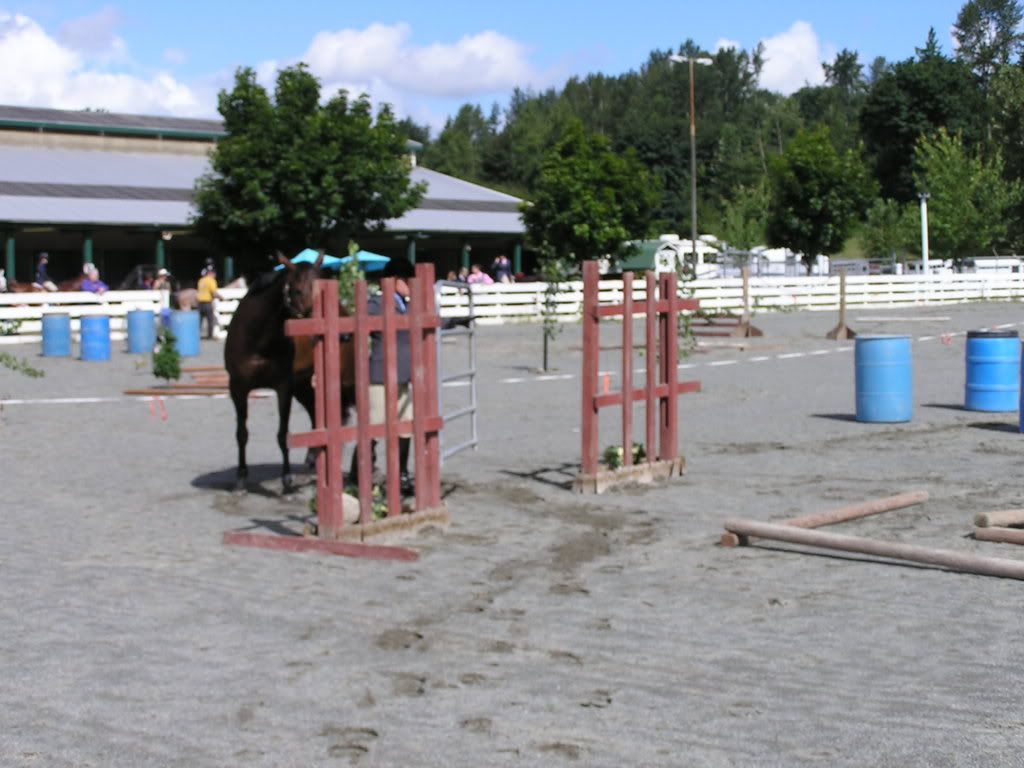 The gate during in hand trail. You can see the other trail courses in the background.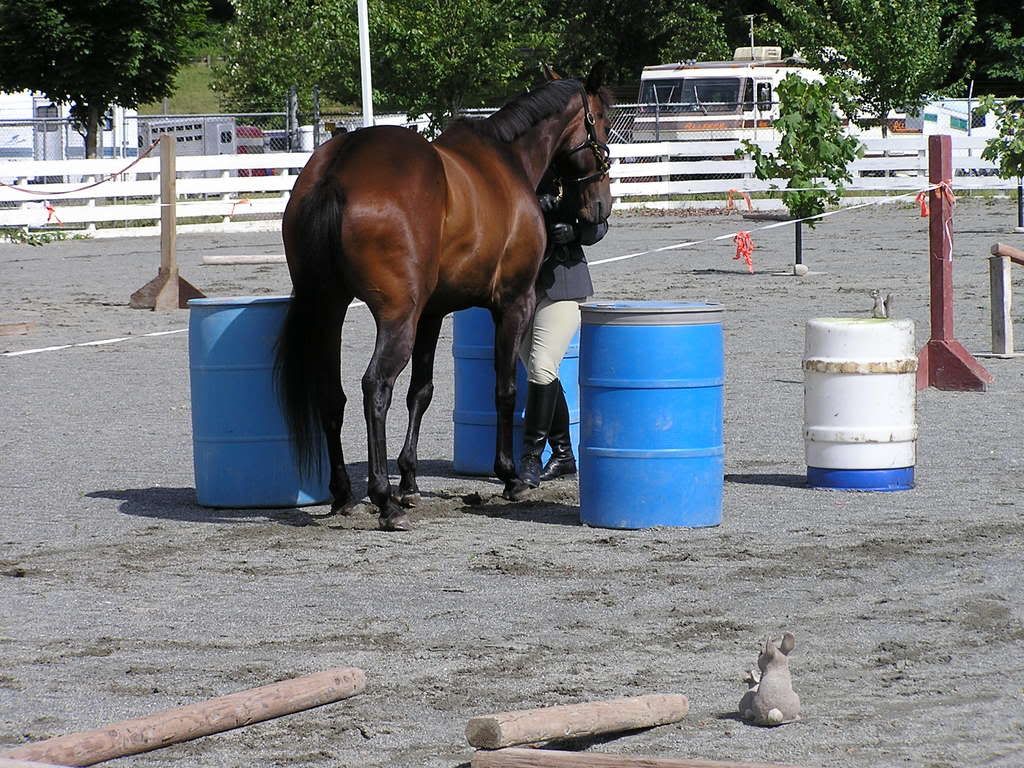 Backing out of the barrels.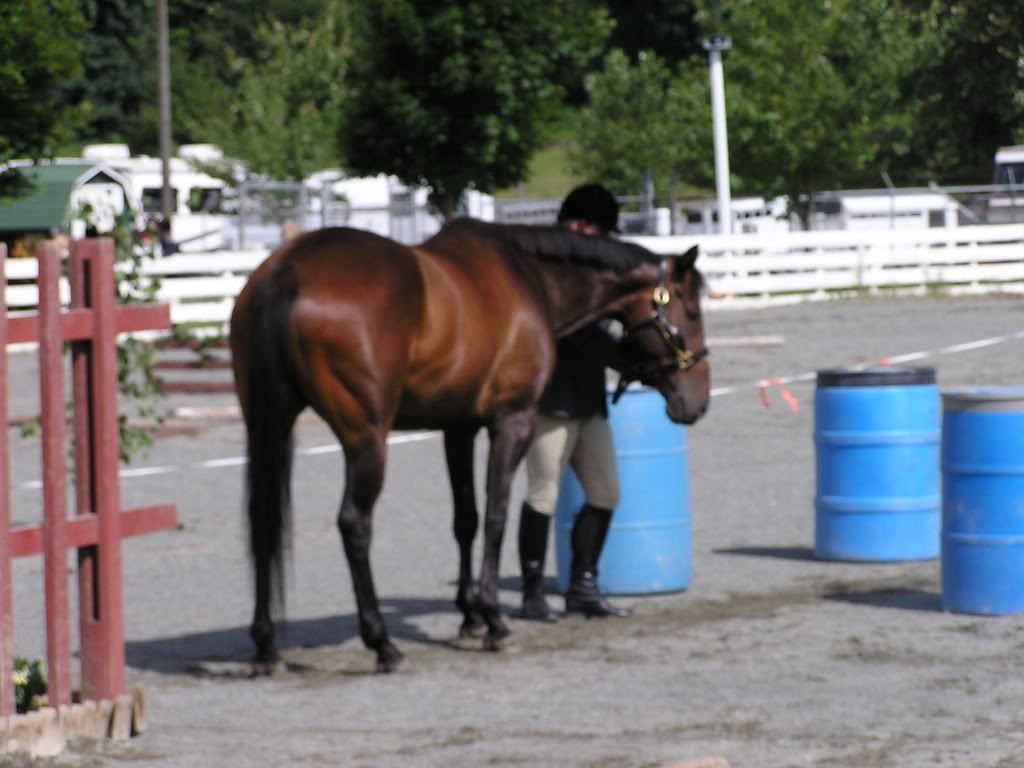 About to trot off.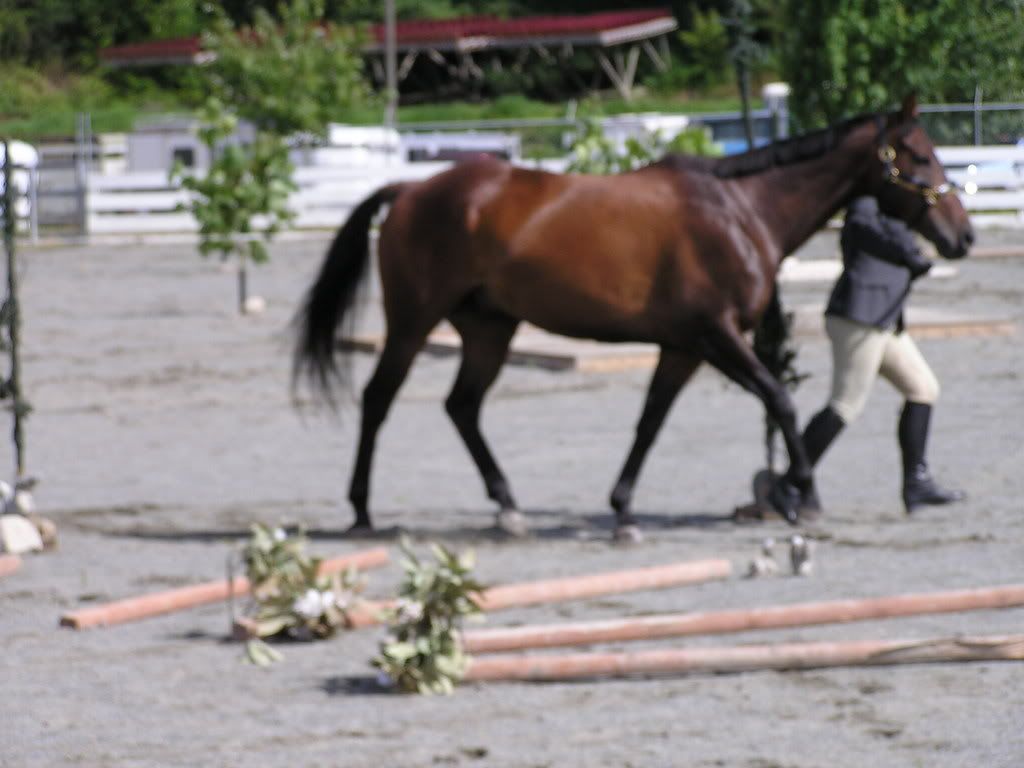 Off we go, weaving on and out of trees - after we weaved we had to do a tight u-turn at the trot to go over those poles.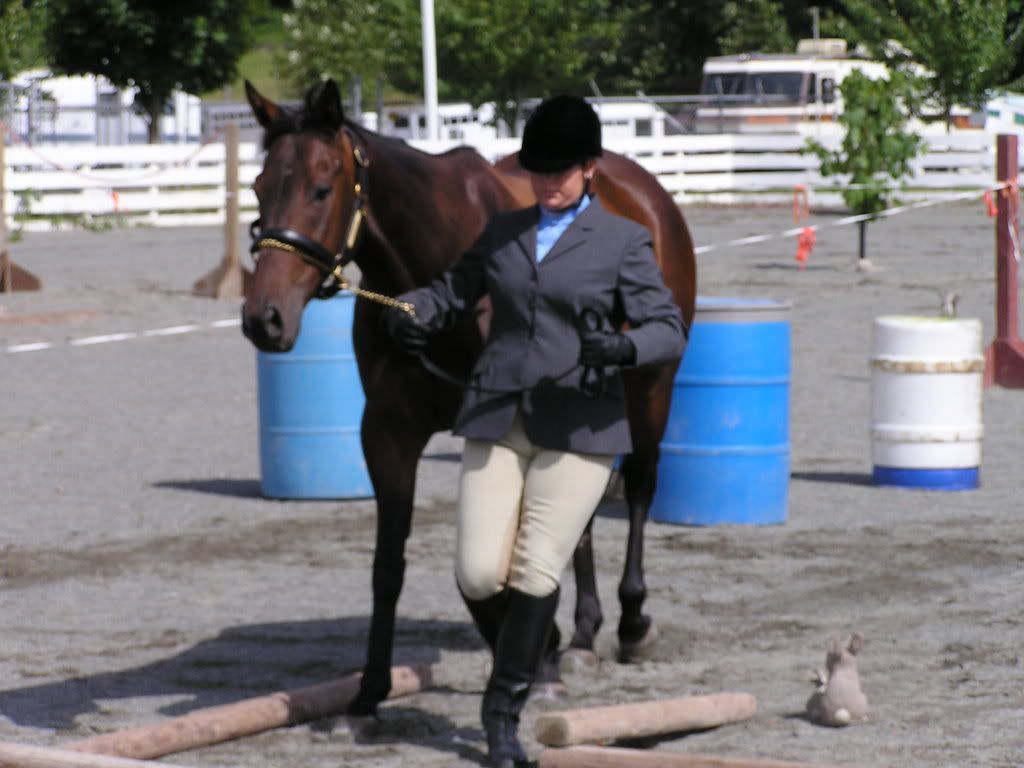 Walking through the tight pole course.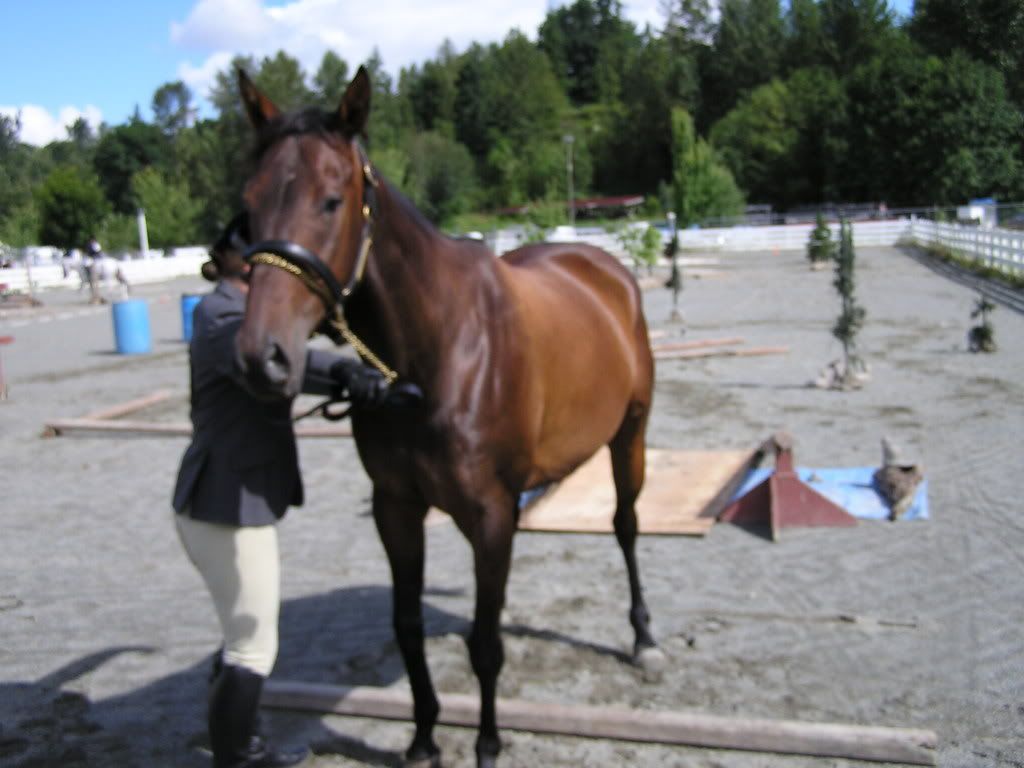 Side passing over the pole.
Walking away form the course after a job well done.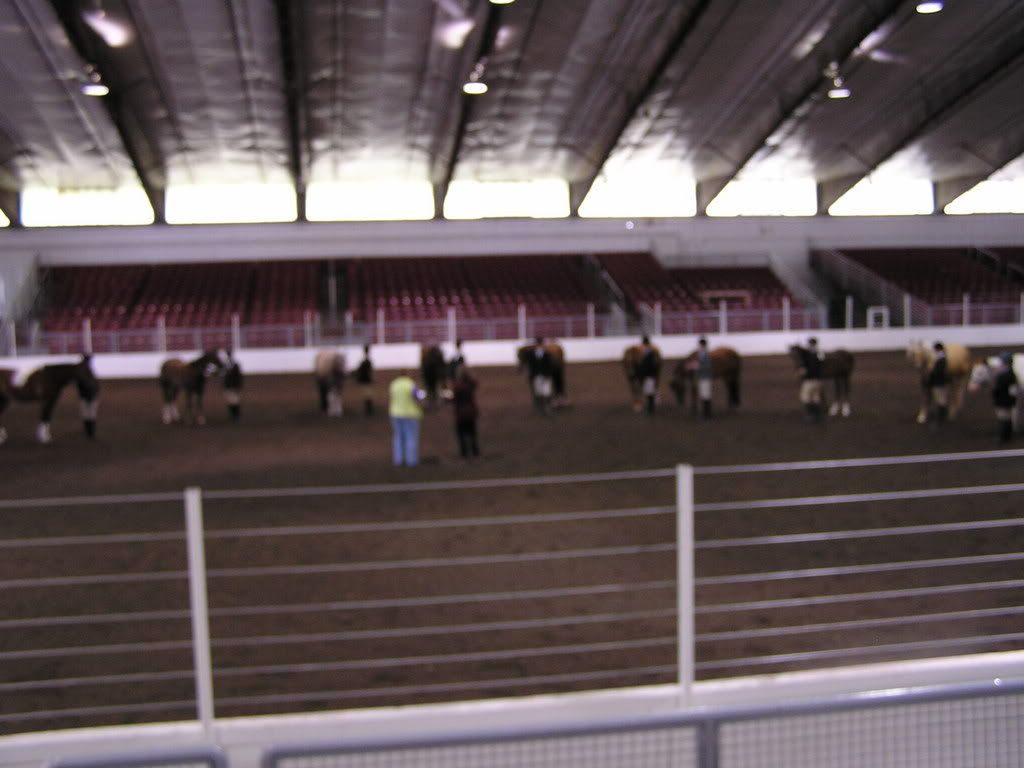 A shot of the indoor arena right after my friends greenhorse showmanship class - The judge had asked everyone to gather so it would be easier for her to speak to them.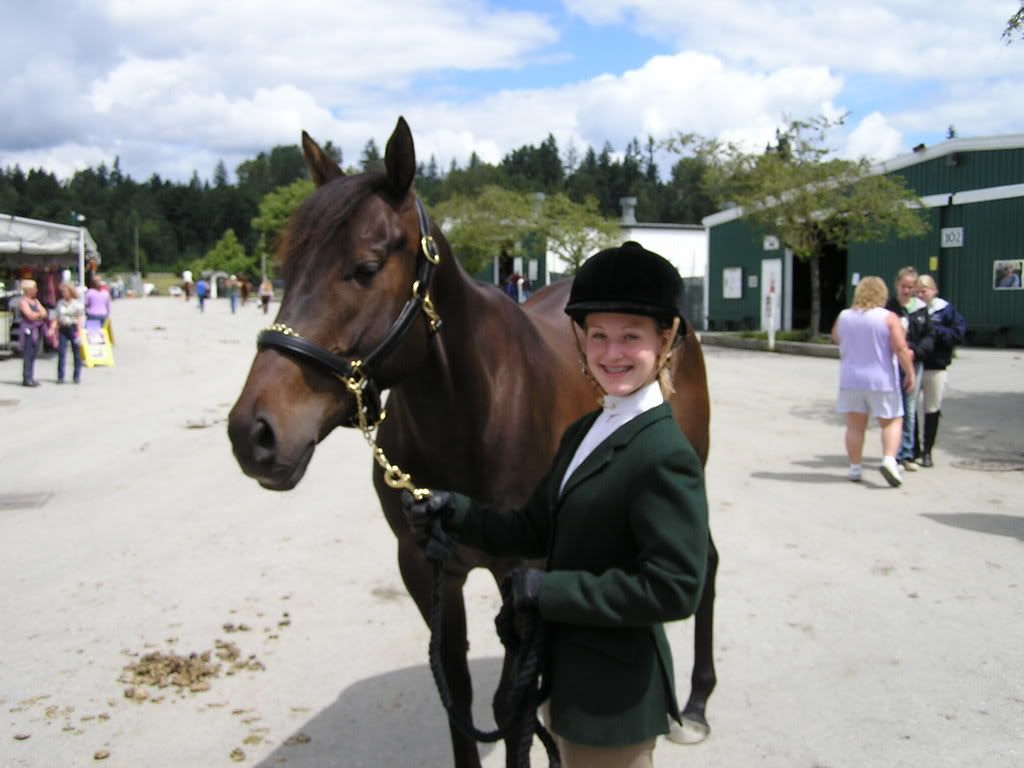 My friend and her horse (Style) before showmanship. Does he look a bit like Carnie? That because they are brothers! (And Annie bought the exact same show halter I did, copycat!)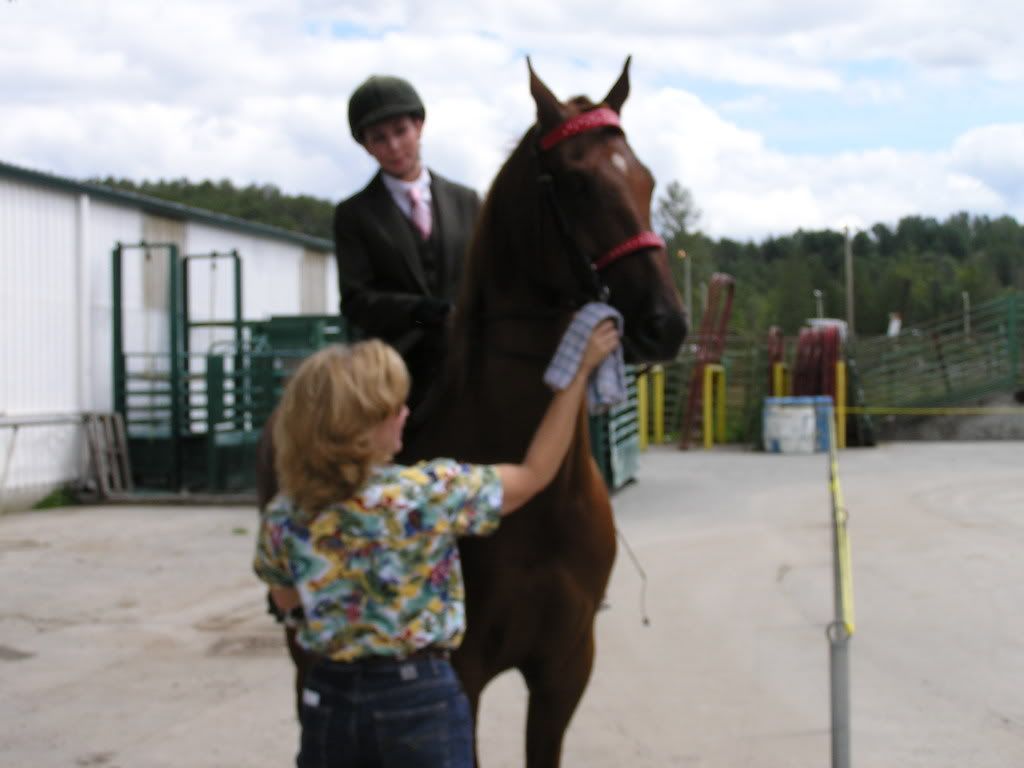 A girl from my club I have known forever. She has some super nice horses. This is her saddleseat horse, Harley, right before they go into her Saddleseat Medals class.
Yay for 1st place in pleasure!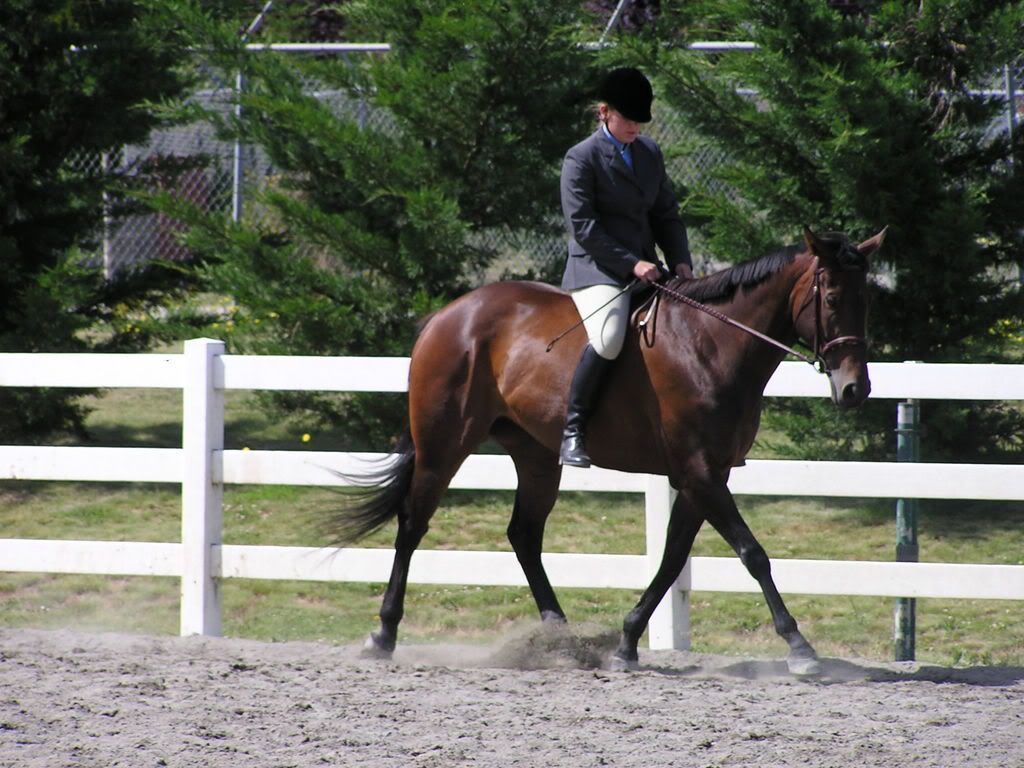 Figures the only shot Mom got of me riding was when I was bouncing around bareback and Carnie's looking like an old nag. This is me warming up before my class.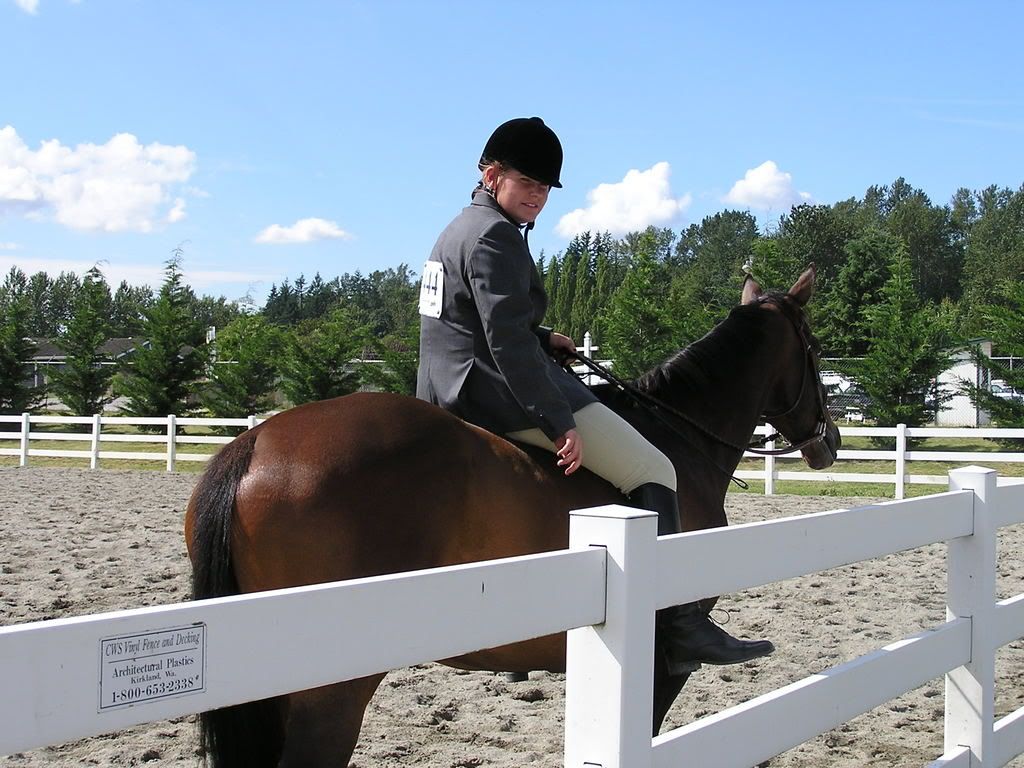 Scowling at Mom - I was really sore at that point. I warmed up for far too long.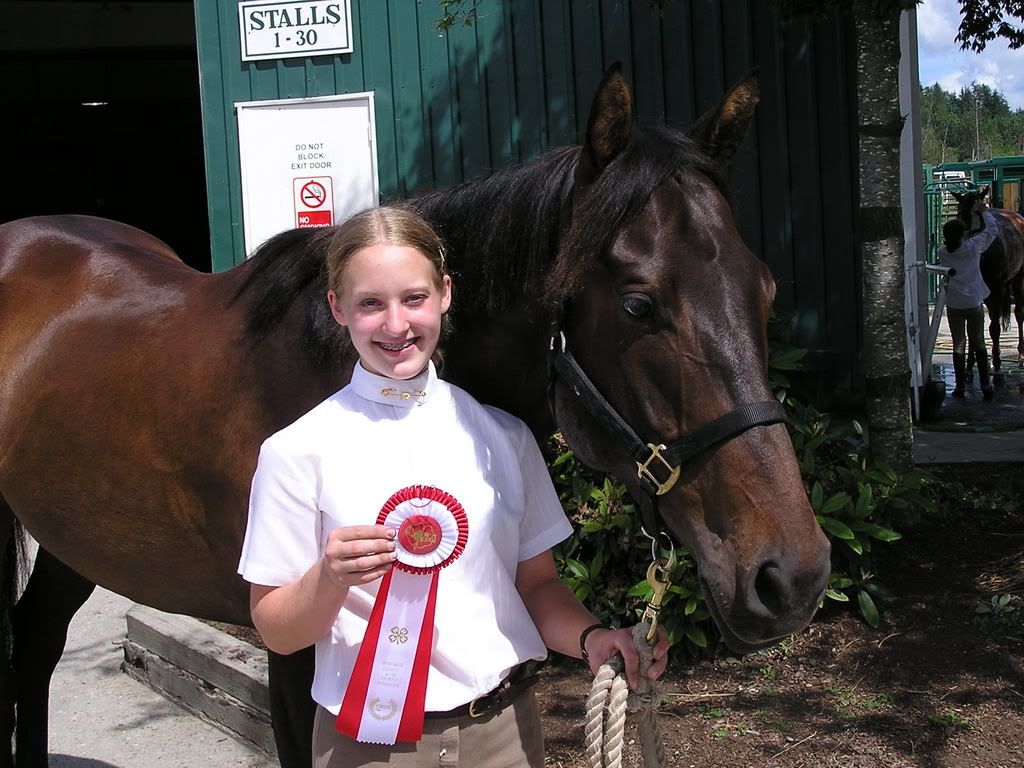 Yay for Annie and Style! They got 2nd place in their beginning greenhorse pleasure class.